Guest columnist:
Miles K.
(To download a zip of the entire songlist, click
here
.)
Dear readers/listeners: I submit for your listening pleasure, 10 bands that never really got their due & 10 songs that everyone should know but maybe it's good they don't…shhh…don't tell anybody, they might spoil it for the rest of us.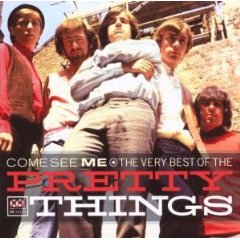 1. The Pretty Things
: "
Rosalyn
"
This British Blues/R&B craze beat group should have been as big as The Stones, The Kinks or The Animals, but indeed the Gods of Rock had other plans for them. Led by the brazen Phil May on vocals and the bearded Dick Taylor (who had a shot at being in the Stones as bassman but gave up his spot to Bill Wyman) on guitar, this band blasted onto the British scene in 1964 with this nifty little number. Later covered to great effect by David Bowie on his 1973 all-covers "Pinups" album, this track boasts everything a scorching blues-wailing rocker should have: spleen-rupturing slide guitar, skull-thumping drums, screeching, manic vocals and enough energy to tear through the speakers of any cheap AM car radio. The Pretties sadly never caught on in America and where their contemporaries took off for the stratosphere of rock superstardom in the States, the Pretties marinated in relative obscurity, releasing 2 unsung psychedelic masterpieces in the later part of the sixties: S.F. Sorrow (the first proper concept album pre-dating The Who's "Tommy" by a good year) and the even stranger Parachute. While the Pretties have never really gone away (tours and albums still get them out to their aging fans), they continue to remain on the murky periphery of classic rock, a genre they helped forge back in its formative years.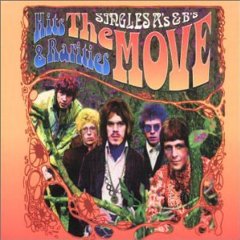 2. The Move
: "
Walk Upon the Water
"
These mid-sixties pioneers of British psychedelia are often overshadowed by the larger-than-life pomposity of the 70's rock behemoths they later morphed into: Electric Light Orchestra (ELO). Led by the Beatles-inspired future Wizzard, Roy Wood, who wrote all the band's early "hits," and boasting the confident swagger of Carl Wayne on lead vocals, along with future ELO and Black Sabbath drummer, Bev Bevan, The Move exploded onto the British pop scene with television-smashing live performances and 3-minute pop singles with intricate vocal harmonies, sonic orchestral bass-lines, and song craftsmanship to make even Brian Wilson jealous. This one glorious track off their self-titled debut is clearly as good as any of its contemporaries, but you won't hear a Move song on classic rock radio anywhere in this galaxy. Also, check out the original version of "Do Ya" on the last Move album "Message from the Country" before ELO Zepped it up for 1970's rock radio play-lists.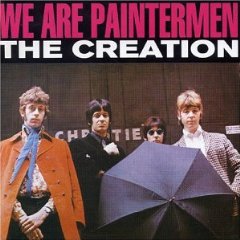 3. The Creation
: "
Making Time
"
Crackling through the cones of your speakers comes a sound so dangerous and so addictive it should have a warning on the record label. This 1966 gem of British Power-pop indelibly stamps itself on your cerebral cortex and all you can think to do is pick up the needle and put it back at the beginning of the track. Thus is the impact of The Creation's sonic masterpiece "Making Time." That riff alone is worth the price of admission. A sonic innovation on many levels, this track featured guitarist's Eddie Phillips' bowed guitar, a good few years before Jimmy Page's violin-bowing freak-outs on "Dazed and Confused" sent American kids into orgasmic shudders of sonic delight. The track also boasts a euphoric dose of feedback, still new to virgin radio ears, and hammers it all home with some vicious power-chords that, I bet, made Pete Townshend himself sit up and take notice. Sadly, The Creation would merely serve as a footnote in the career of one Ron Wood who played with the band in their declining days. Fortunately, in the late 90's, American film-maker, Wes Anderson, used the track to great effect in his gorgeously moody film Rushmore, thus introducing The Creation to a whole new brood of listeners.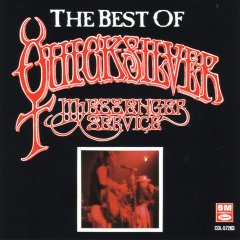 4. Quicksilver Messenger Service
: "
Fresh Air
"
These San Francisco scenesters were contemporaries of the far more successful Grateful Dead and Jefferson Airplane; they lacked the hit power and live draw of those bands, but remain nonetheless exciting. John Cipolina and company forged a fierce reputation as a bluesy, psychedelic live band that could change gears from spacey jazz-rock to fuzzed-out rock freak-outs on a dime. I've always thought this track could work just as well as, say, "All Along the Watchtower" in a Vietnam War film. To me, it says all that needs to be said about that era—Have another hit…indeed.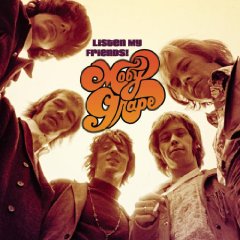 5. Moby Grape
: "
Omaha
"
I had this song on a compilation tape I made off of a Philadelphia classic rock station in the early 1980's. This particular station was enamored of obscure 60's Psychedelia and would mix it in with standard fare from the era like the Doors, Floyd, and Yes. Wildly animated guitarist Alexander "Skip" Spence started with the Airplane before forming the Grape. His story and brilliantly misanthropic solo album Oar are a topic unto itself to be discussed at perhaps a later date. In the meantime, I leave you with this short burst of brilliance—Listen my friend—you will be glad you came along for the ride.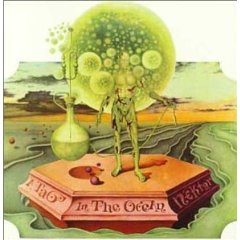 6. Nektar
: "
King of Twiligh
t"
Covered by Iron Maiden in the 1980's, this slab of progressive heaviosity never found the place on classic rock radio which it rightfully deserves. Led by Hendrixian British guitarist Roye Albrighton, Nektar first reached the ears of the listening public in Germany, evolving out of the band Prophecy, a bluesy rock outfit that found luck playing the military bases which housed American soldiers eager to delve into the "new sounds" that rock had to offer in the late 60's. Having made one loosely conceptual platter of highly acidic space-rock, Journey to the Center of the Eye, for the Bellaphon label in Germany, the band hit its stride on this, their sophomore release. Beginning with the side-long epic title track and then exploring more blues-based, even funky tracks (which showed a whole other side of the band that they would soon exploit to great effect on their conceptual masterpiece, Remember the Future), the true Nektar "sound" starts here. While real success eluded them in their heyday, Nektar did manage to tour the States regularly with their liquid light show by fifth member, Mick Brockett, and are still on the road today, albeit with only 2 of the original members.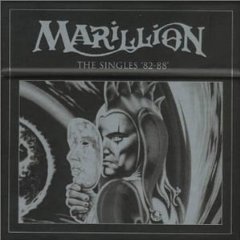 7. Marillion
: "
Market Square Heroes
"
Scottish purveyors of 80's Prog, Marillion were the rightful heirs to the throne of progressive rock begat in the former decade by the likes of Genesis, Yes, and King Crimson. This was their first single in the UK and what a glorious one it was. Front-man Fish, decked out in slightly ridiculous spangled, medieval outfits and Peter Gabrielesque face paint, rolls his R's with a vengeance on this track, a staple in their live shows, and proclaims himself to be the new King of the Kingdom of Prog. Reportedly about a clash with a gang of fascist neo-nazi street thugs, this track announces Marillion as a force to be reckoned with; and in the early to mid 1980's, they were. Ultimately, Fish left the fold, to be replaced by a more commercially appealing singer in Steve Hogarth, much the way Genesis turned to the more traditional Phil Collins in the wake of Gabriel's departure from that band. But this period of the band's work has lost none of its magic over the years and Fish still tours heavily in Europe, occasionally ripping into this track with all the scorn and defiance of his younger days. "Are you following me?," Fish screams out to the punters and they answer his call to arms with an affirmative, "Yes!"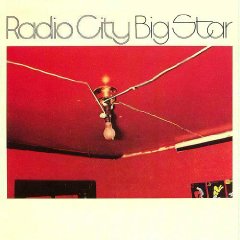 8. Big Star
: "
September Gurls
"
Written by American rock outcast, Alex Chilton, this track off of Big Star's second album Radio City was a delightful slice of American jangle-pop that would ultimately give birth to the whole college/alternative rock scene in the 1980's, chiefly REM and company. Big Star made three amazingly eclectic albums in the 70's and then faded into obscurity. Albeit to my ears not as classic as their first album, #1 Record, their second release opted for a more soulful R&B flavor á la Stax records, looking back to Chilton's beginnings in The Box Tops. Nonetheless, toward the end of side 2 comes this delicious slice of pop confection. It's a shame Chilton couldn't have gone on to greener pastures, but such is the often tumultuous and fragile world of Rock and Roll. Immortalized in the 80's by The Replacements' brilliant eponymous single, Alex Chilton will always have a place in the hearts of sensitive rockers everywhere.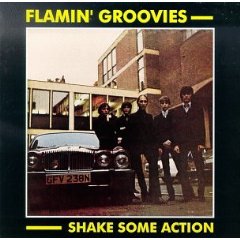 9. Flamin' Groovies
: "
Shake Some Action
"
Initially a San Franciscan pre-punk garage band fronted by chest-beating wild man, Ron Lonely, the Groovies relocated to London in the mid 70's, hooked up with Dave Edmunds, and reinvented themselves as melodic new-wave jangle-pop merchants. Upon hearing all glorious 4:31 minutes of this 1976 track from the album of the same name, one scratches one's head, befuddled as to why this song was not blaring out of every dorm window, car stereo or barroom jukebox cost-to-coast. Absolutely criminal!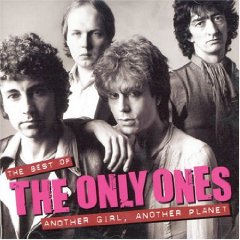 10. The Only Ones
: "
Another Girl, Another Planet
"
This punky little ditty was penned by Only One, Peter Perrett and remains the signature single of a band that should have been huge in a Police, Pretenders, Elvis Costello New Wave world but are now relegated to Punk & New Wave compilations the world over. To me, this song is as memorable as, say, The Knack's "My Sharona" but try finding this on today's rock radio? No way!
Well, that's all, folks! until next time…
*Please Note: The mp3's of these tracks are merely posted as a sampler with the understanding that if you like what you hear, you will buy the full-length albums from these artists. Please buy from independent record stores! If you are in New York City, may I recommend Rockit Scientist at 33 St. Marks Place, as they will have most of these titles as well as other groovy merchandise.