A Sufficiently Peculiar Review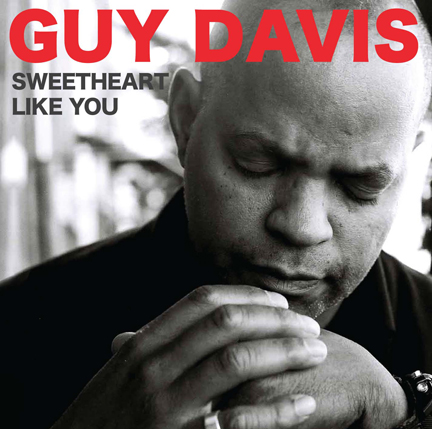 Sweetheart Like You
, Guy Davis
Red House Records, 2009
By Miles Kowitt
Although Guy Davis was raised in New York City, his soul has always belonged to the Mississippi delta with the bluesmen who awoke his muse and fired his storybook imagination with their songs and stories of suffering, survival and redemption. Sweetheart Like You, his tenth recording for independent blues label, Red House Records, takes its name from a song off of Dylan's 1983 Infidels album, which Davis covers with astonishingly deft and soulful clarity. Davis, an actor, writer, storyteller and teacher as well as gifted musician, plays 6 & 12 string acoustic guitars with an old school finger-pickin' style in the tradition of his legendary forefathers: Son House, Leadbelly, Reverend Gary Davis and Mississippi John Hurt, as well as 5-string banjo, mandolin and emotive blues harmonica. Sweetheart Like You, his latest album of classic blues and folk renditions interspersed with flavorful originals, is the sonic calling card of a true 21st century bluesman. Spread over 14 tunes, Davis whoops, hollers, plucks, picks and moans his way all the way up through the Mississippi delta, to the smoky night clubs of mid-1950's Chicago, and into the projects of modern-day urban America. Among the country blues classics, Davis takes us to a southern work camp via Son House's prison lament, "Down South Blues" and offers up a sprightly rendition of Muddy Waters' "Can't Be Satisfied" picked on a 5-string banjo. Turning in heart-felt originals such as "Words to My Mama's Song," with its modern hip-hop recording techniques like looped vocal percussion and the gospel-infused "Angels are Calling," Davis proves to be an artist who is just as comfortable embracing the past as he is exploring the present. It is a stroke of good luck indeed for fans of traditional American music to have musicians like Guy Davis around who remind us that the blues are very much alive and available for the next generation to treasure and enjoy.
To purchase this album and other fine albums by Guy Davis, check out
redhouserecords.com
or visit Guy's own website at:
guydavis.com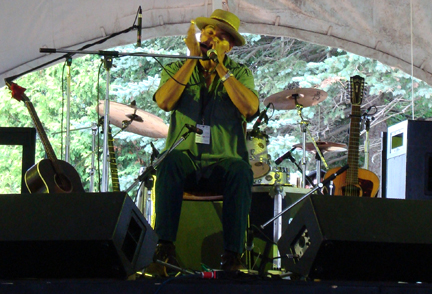 While attending the First Annual Vermont Blues Festival this month, I was blessed to witness a feverish performance by Guy Davis along with Mavis Staples, Shemekia Copeland and other masters of the genre.