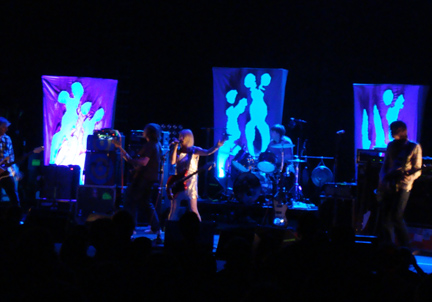 Sonic Youth @ United Palace Theater, NYC
Friday, July 3rd, 2009
By Miles Kowitt
It is an uncommon practice in the often-transparent world of popular music for an artist to develop a singular style and stick to their guns no matter what the mainstream world may dictate. Sonic Youth have been doing this for nearly three decades now and have lost none of their passion in searching for that elusive "sound" that only they seem to hear. That "sound" grew out of the No Wave scene in Manhattan's Lower East Side in the late 70's into the dawn of the 1980's. As disciples of guitar provocateur Glenn Branca, SY signed to his Neutral Records label in 1982 and committed their first dissonant chiming guitar forays and disembodied murmurs to vinyl. Since that first self-titled E.P., the band has experienced an evolution like no other in Rock and Roll. I suppose if you threw the Jefferson Airplane with the original Velvet Underground into a large pot, simmered, adding in some Sun Ra, Throbbing Gristle and a dash of the Ramones, you might come close to an accurate description, but SY have many more dimensions to them than a casual fan might realize.
SY have been one of the few bands in this age to sign with a major label, Geffen Records, and still maintain their Indie cred, continuing to release bold and brash albums well into their third decade together. They have played everything from the dingiest shit-holes all the way up to huge festivals and even Madison Square Garden, opening for Neil Young in the early 90's. They have ventured into countless side projects: Ciccone Youth and the SYR avant-garde series, not to mention solo releases and interesting and unusual collaborations. They have embraced musical forms as diverse as cheese-ball Hair-Metal, Hip-Hop, Psychedelia, Free Jazz, World Music, and even neo-classical arrangements, all with their unique brand of rebellious humor and youthful experimentation. And, most unusual for a successful rock band, they have given back to the community that supported them, providing a leg-up to bands like Dinosaur jr. and more famously, Nirvana. With goodwill to fellow artists and fans alike, Sonic Youth can truly be called a band for the people.
For their latest album, The Eternal, SY have returned to an independent label, Matador Records, and have added the newest fifth member, much in the way they did with previous member, Jim O'Rourke. Bassist Mark Ibold, from 90's Indie-Rock darlings Pavement, brings yet another dimension to the SY sound, adding taut and muscular bass grooves to their heady stew of sonic delight. This album, for me, is the most satisfying SY release since the epochal Daydream Nation, bridging the gap between the murky experimentation of older releases with the more conventional rock-solid numbers they perfected on a string of hit Alt-Rock albums in the 90's.
Tonight's set-list focused primarily on songs from the new album with some interesting older gems thrown in for good measure. The band opened the show with current single "Sacred Trickster" which to my ears has a more conventional rock sound much in the style of their early 90's major-label albums Goo and Dirty whereas another new tune "Anti-Orgasm" sounds like an outtake from Sister. For me, the standout track of the current batch of songs was "Massage the History" which featured Thurston Moore on acoustic guitar, an oddly unnerving sight for a band so associated with electric instruments, but all the more effective for it. SY crowd pleasers such as "Tom Violence", "Catholic Block" and Kim Gordon's tour-de-force "Pacific Coast Highway" sounded as fresh as when I first heard them back at City Gardens in Trenton, NJ in the mid 80's. The real treat was a couple of noisy blasts from the Confusion is Sex/Kill yr. Idols period which somehow fit in perfectly with the newer material. For the final encore, Moore invited the audience to move forward, crowding the stage, much like their many club gigs in the early 80's and exclaimed, "Now that feels more like it" and launched into some early staples like "Brother James" and the evening's closer, "Death Valley '69" with as much velocity as if they were brand new songs. Moore's generosity with his audience reminds us that an audience is just as important as the band it has paid hard-earned cash to see.
From the cover painting on their latest album (by acoustic guitar virtuoso John Fahey) to the inner-sleeve photo (of Johnny Thunders at Max's Kansas City) and tribute to fallen Stooge, Ron Asheton, SY have never been afraid to praise and even pay homage to their heroes. Somehow, in the SY alternate-universe everything that is old will eventually become new again. Hence the Sonic Youth aesthetic: destroy what's old, take the remnants and start again with a strange familiarity but a whole new direction. An idea simple enough in theory, but harder to execute as proved by countless SY sound-alikes that littered the musical landscape of the last decade. Sure, Punk taught us that anybody can start a band and make a record but so few do it as well. Constantly evolving, but firmly tethered to their Downtown NYC Art-punk outsider roots, Sonic Youth are still D.I.Y. after all these years.

Set-List:

Sacred Trickster / No Way / Calming the Snake / Poison Arrow / Tom Violence / Walkin Blue / Anti-Orgasm / Leaky Lifeboat / Antenna / Catholic Block / Malibu Gas Station / Massage the History / World Looks Red / What We Know / Pacific Coast Highway / Brother James / Death Valley '69
The Eternal is out now on Matador Records. For more information on the band, check out
www.sonicyouth.com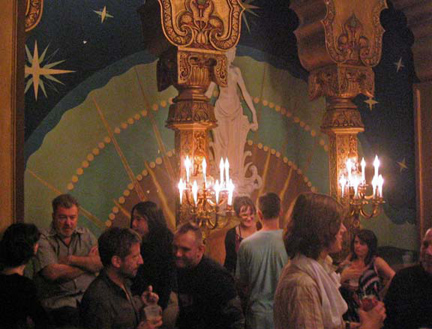 At the lovely United Palace Theatre even middle-aged hipsters look nice.
Hey, I was at that show, too! Miles took us to the terrific Malécon Restaurant across the street for some pre-show chow and who should we see exiting the place with well-satisfied grins? Lee Ranaldo and Mark Ibold, shaking hands with friends and giving the Family Circle stamp of approval on the joint. And it was good eating. Might even be worth a trip up there on a showless night.

– ed.