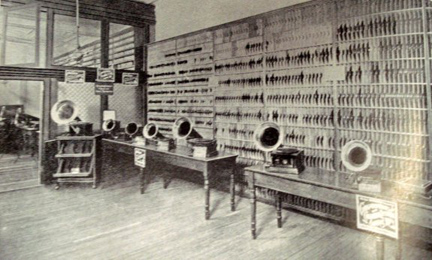 "Explore 44,500 selected recording of music, spoken word, and human and natural environments."
The British Library has opened its very impressive
archive of recorded sounds
to the public. Who knows what's out there?
Here's a
clip
of an "aboriginal song on wax cylinder 1898." (courtesy of the
Guardian
)
Speaking of archives,
Ubuweb
has an amazing one. Theirs is focused on art, and it's just about that specific; you can find almost anything relating to any art medium that's ever been recorded or documented via this incredible site.
Case in point: I tried to collect the Tellus cassette-only music magazine when it was being published, but I only managed to snag a few (I miss See Hear.) Ubuweb has links to all 26 of these historic collections of avant-garde work, all downloadable, legit and cost-free:
Tellus #10
: The All-Guitars issue (1985): Glenn Branca -
Acoustic Phenomena
(mp3)